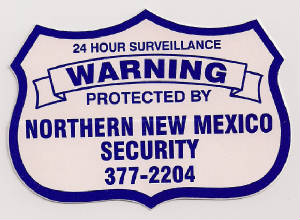 Northern New Mexico Security Corporation specializes in security alarm monitoring, alarm response, home watch/caretaking and private patrols. We also provide free estimates for security alarm installations. We provide service in and around the Angel Fire area which includes Eagle Nest, Taos Pines, Black Lake and Hidden Lakes. Our speciality is local ALARM MONITORING and ALARM RESPONSE. Police departments locally and throughout the country consider a burglar alarm a low priority call. This is due to the fact that over 95% of burglar alarms are false alarms. We, on the other hand, treat all alarms as a TOP priority. We have people "on call" 24/7 just for the purpose of responding to alarms.
We can help protect your home from frozen pipes, smoke/fire and intrusion.
Our business was established in 1989 and we pride ourselves on providing customers with personal service. Our business office is in Angel Square conveniently located on Highway 434 in the heart of Angel Fire.
Providing good service means taking the time to listen. We will work with you every step of the way to make sure you receive the services you need. Our business is client-oriented, and we maintain strict confidentiality.
Northern New Mexico Security is licensed by the State of New Mexico Licensing and Regulation Department. As a matter of fact, we are the only company in the area that is licensed. We are fully insured with a one million dollar liability policy and we carry worker's compensation. It's wise to be careful about asking friends, neighbors or unlicensed un insured people to respond to your security needs.

We look forward to hearing from you.
We are proud members of the following organizations:
Angel Fire Chamber of Commerce
State on New Mexico Private Investigators and Polygraph Board
State of New Mexico Licensing and Regulation Department